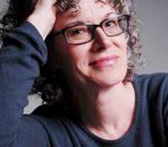 Penny is a leading specialist in her field.
She trained as a Speech, Drama and English Teacher at The Central School of Speech and Drama, 1976-79 and again in 1983-84, on the Voice Course. She has freelanced extensively as a Voice and Dialect Coach in Film and TV and Theatre since this time. She was Head Voice and Dialect Tutor at Central 1987-90, and Speech and Dialect Tutor at RADA 1991 - 96. In the past 10 years, she has worked consistently for The Donmar, Royal Court and Almeida and in the West End and frequently, over 25 years, for many other leading Theatre Companies, including The Hampstead Theatre Club, The Tricycle, Out of Joint, Shared Experience, West Yorkshire Playhouse, The Crucible Sheffield and The Royal Exchange, Manchester.
In 2007, Penny brought out a series of 6 Dialect CDs, called "Access Accents", published by Methuen Drama.
IMDB Links:-
https://pro.imdb.com/name/nm0245768/?ref_=instant_nm_1&q=penny%20dyer