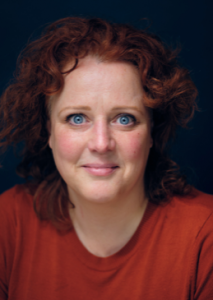 Mary started working as a dialect teacher and coach 20 years ago. Until a couple of years ago, she was combining production coaching with drama school teaching, at schools including the Birmingham School of Acting, the Royal Central School, Rada, and 12 years at Lamda.
This has given her experience of working with a lot of actors, with a range of learning styles, on different styles of production, from Shakespeare to musicals.
Her theatre coaching work has included Shakespeare's Globe (Much Ado about Nothing/The Mysteries), the National Theatre (An Octoroon), and Sheffield Crucible (Rutherford and Son/Standing at the Sky's Edge)
A speciality of Mary's work for the last 10 years has been with non-native English speakers, most notably Raphael Acloque (The Great/Catherine the Great/Little Birds), and with the non-English speaking actors in The Spanish Princess, working quickly on making their delivery of English lines clear and expressive.
She has recently made the move into Film and TV coaching - The Spanish Princess 1 and 2, Behind Her Eyes, Ridley Road - and really enjoys the atmosphere on set, and helping actors to get the dialect, and where necessary, the voice they need for the character, along with exploring the text for classical or period scripts. She also has experience of working on high impact vocal use - screaming, shouting, etc - the kind of thing you need for a crucifixion in The Mysteries at Shakespeare's Globe, for example.
Accents
Because of her long teaching career, Mary has experience of working on any accent that is required, but has a lot of experience of working with RP and with Standard American. She has also had the chance to focus on African-American, Caribbean and African accents. But over the years the accents she has coached include Sheffield, Glasgow, Mauritania, Wolverhampton, Louisiana, Newcastle, Vermont, Manchester, Texas, North Wales, Barbados, Spanish, French, and lots of Americans into RP, Brits into American, and non-native English speakers into various levels of English.
Actors
Clients include Joseph  Quinn, Raphael Acloque, Charlotte Riley, Charlotte Hope, Ralf Little, Tom Bateman, Elodie Yung and Sarah Solemani
Background
Mary is a proud Midlander by birth, a proud Celt by family, and currently lives in Kent. She has an English and Drama degree from the University of Birmingham, and began her professional life as a theatre techie, before moving into acting, where her vocal skills made her useful to cast in multiple roles. She sings, and genuinely enjoys Shakespeare and Dickens.
IMDB link:-
https://pro.imdb.com/name/nm5420832/?ref_=instant_nm_1&q=mary%20howland
https://www.imdb.com/name/nm5420832/?ref_=nv_sr_srsg_0