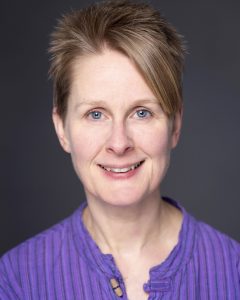 Jude is a Belfast based voice and dialect coach. She has over 25 years experience teaching and training actors in voice, speech and accent both nationally and internationally. She has taught and coached in several settings: Drama school, Theatre, Film and TV. She has also taught and coached in the USA.
Jude initially trained as an actor at Webber Douglas Academy of Dramatic Art and later gained an MA in Voice Studies from the Royal Central School of Speech and Drama. She gained further training and experience working at Shakespeare & Co. in Lenox, Massachusetts and the Academy for Classical Acting in Washington, D.C. Jude has spent years studying, mastering, performing and coaching numerous accents. Her extensive work with phonetic transcription has led her to developing illustrations and animations to help visualise the articulatory gestures required to acquire new pronunciation patterns.
Jude continues to develop and enhance her voice and accent skills. To add to her extensive training, she is currently undertaking teacher certification in Knight Thompson Speechwork.
Jude also teaches on and co-ordinates the Rose Bruford: FACT Screen Acting course based at the MAC, Belfast.
 Testimonial: 
"I look forward to every session I have with Judith, I just know it's going to make my work better. Not only is Judith an expert teacher in dialects, but she understands actors, their individual needs, the creative process and the demands of the industry. I would've been lost many a time without her expert collaboration. Judith is gold!" Jonjo O'Neill
IMDB links:-
https://pro.imdb.com/name/nm1487512/?ref_=instant_nm_1&q=judith%20mcs