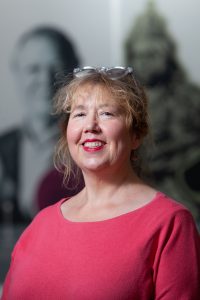 Elspeth is an ex-BBC Producer who escaped the corporation in 2000 to follow her passion to become a Voice Coach. She invested in the MA in Voice Studies at Central School of Speech and Drama.  
Accents
After years of freezing her ass off on BBC locations, she prefers the relative warmth of a theatre rehearsal room or an ADR studio and loves working with actors to put together the jigsaw puzzle of finding the right sort of accent for whatever the production may be.  
Broadcasters
Having thought she'd escaped all things television, news, features and current affairs, she has been snapped up as a leading coach with presenters, reporters, newsreaders and, of course, the ever-increasing podcasters and vloggers for such as the BBC, CNN, Channel 4, ITN and Al Jazeera. 
Comedians – stand-ups who need to get out of their clubby, back of the room voices for the radio. These include Nish Kumar, Paul Sinha, Simon Jones, Tom Wrigglesworth     
Having not a single sporting bone in her body, she has, in a strange twist of fate, worked successfully with many, many sports people turned commentators and presenters. Including Nadia Comaneci (gymnast), Leo Taylor (diver), Daniela Hantuchova (tennis), Paul O'Connell (rugby)
And neither can she dance…. And yet she has worked with many of the participants on BBC's Strictly on either presenting or acting, including Ore Oduba, Carole Kirkwood, Caroline Flack, Tom Chambers, Daisy Lowe, Georgia Foote and Helen George.  
She does a lot of things….. just a small snapshot
And Other Things……
Expert Guest on Radio and TV
Elspeth is also a regular guest talking about accents and voice on programmes such as Melvyn Bragg's Matter of the North (BBC), An Immigrant's Guide to Britain (Channel 4) The Royals (Netflix), Most Shocking Moments (Channel 5) and Faking It (Channel 4).
Trainer
Senior Lecturer on the Accent Module on the MA/MFA Voice Studies Course at Royal Central School of Speech and Drama. Regularly invited to hold workshops on how to learn accents and The Actors Centre and The Actors Guild
IMDB link:-
https://pro.imdb.com/name/nm3264884/?ref_=instant_nm_4&q=elspeth%20mor