1917 – 'Masterpiece', '5 Stars' -Jane Karen works with cast on this epic Sam Mendes film.
---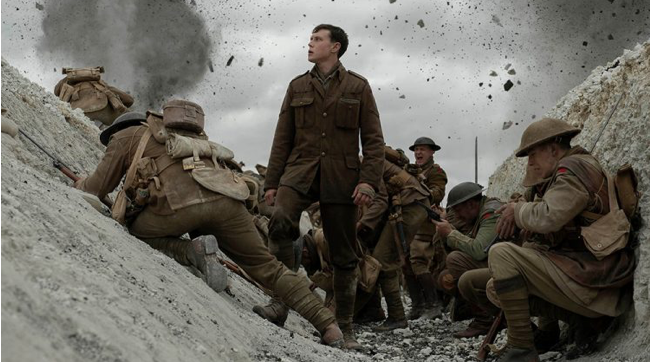 "Sam Mendes's 1917 is an amazingly audacious film; as exciting as a heist movie, disturbing as a sci-fi nightmare. Working with co-writer Krysty Wilson-Cairns, he has created a first world war drama of the Western Front and a terrible journey undertaken by two boys like a ghost train ride into a day-lit house of horror, periodically descending into night as if going underwater and then resurfacing into an alien world, bright with menace."
"Sam Mendes delivers the film of his career by mashing up the survivalist thrills of The Revenant with the helter-skelter mayhem of a shoot'em'up video game, and setting it during the Great War. The resulting two hours of amphetamine-rush cinema is both a monumental technical achievement and, instantly, an Oscar-night frontrunner."
"1917 might be the most intimately photographed war movie ever produced. Already renowned for filming in a way that suggests everything takes place in a single shot, director Sam Mendes and cinematographer Roger Deakins' camera sticks to the backs of its soldiers like the lice in their hair and the gnawing trench rats in their beds… It's utterly horrifying, yet inescapably beautiful—a snapshot of the end of the world as everyone knew it a hundred years ago."
"Universal just dropped a bomb on the ongoing Oscar season, because Sam Mendes' 1917 is indeed one of the best movies of the year, if not THE best. That's a conversation for another day, but the single-take World War I action drama, concerning two grunts attempting to race across enemy lines to deliver crucial, life-saving intelligence to allies readying to wage war, is a genuine marvel of movie magic."
Unit 2 The Courthouse, Moorland Pottery, Moorland Road, Burslem, Stoke-on-Trent, ST6 1DY
© Representation Upson Edwards 2020. All Rights Reserved. Site by i3MEDIA.